Top10TravelAgents.com travel agency reviews – Virgin Holidays 2023 Reviews of USA and Caribbean Holidays
---
About:
Virgin Holidays Limited is part of the British entrepreneur Sir Richard Branson's Virgin Group that offers holidays worldwide with exciting destinations that include the USA and Canada, the Caribbean, Africa, the Middle East, India, the Indian Ocean, and the Far East.
This top travel company has been arranging holidays since 1985 and is the largest, most successful transatlantic tour operator and leader when it comes to traveling to the USA and the Caribbean.
As well as this the travel agent offers holidays to Canada, the Far East, South Africa, the Middle East, the Indian Ocean, Mauritius, plus a well-established Ski program, so you can find your ideal destination for package holidays.
Why book your holiday with this travel agent?
At this top travel agent website, you can discover a selection of holiday destinations from the Caribbean to South Africa and the Far East. Book your package holidays with this travel company today all with ATOL protection.
Spread the cost
By Setting up a Direct Debit, you can spread the cost of your holiday over a period of months. The payments come with a guarantee which means you're automatically protected and can cancel your payments at any time.
Setting up your Direct Debit can be done while you are booking online, by phone, or in the Holiday store, after that, all you do is sit back and relax knowing your holiday is paid for.
What Holidays are on offer?
Package Holidays (Flight + Hotel)
City Breaks
Caribbean Holidays
USA, Florida Holidays
With the Virgin Holidays Sale now on, you can find bargain Florida Holidays starting from just £519pp to the Sunshine State! If you are looking for a much-needed holiday in 2023, the prospects of booking an adventure-filled trip to the USA are very good. With the Covid-19 Cover and flexible no change fees policy, you can feel more secure that all will be ok and you will be able to rebook if there is some problem.
What UK Airports can you fly out from?
This travel company has access to 30 airports spread across the United Kingdom. Here is the full list of UK airports, with Airport Codes, that Virgin Holidays can fly you out from on your holidays:
Aberdeen – ABZ, Belfast City – BHD, Belfast International – BFS, Birmingham – BHX, Bristol – BRS, Cardiff – CWL, Darlington (Teeside International) – MME, East Midlands – EMA, Edinburgh – EDI, Exeter – EXT, Glasgow Int. – GLA, Glasgow Prestwick – PIK, Guernsey – GCI, Kirmington (Humberside) – HUY, Inverness – INV, Isle of Man – IOM, Jersey – JER, Leeds Bradford – LBA, Lerwick – SDZ, Liverpool – LPL, London City – LCY, London Gatwick – LGW, London Heathrow – LHR, London Southend – SEN, London Stansted – STN, Manchester – MAN, Newcastle – NCL, Newquay – NQY, Norwich – NWI, Southampton – SOU, Stornoway – SYY
ABTA & ATOL Protection:
Your holiday is protected – many of the flights and flight-inclusive package holidays on this top travel agents website are financially protected by the ATOL Protection scheme. But please note that ATOL Protection does not apply to all holidays and travel services listed. Please do check to confirm what protection may apply to your booking with this travel company.
If you do not receive an ATOL protection Certificate, then the booking will Not be under ATOL protection. If you do receive an ATOL Protection Certificate but all the parts of your trip are not listed on it, those parts will not be with an ATOL protection. Virgin Holidays Ltd ATOL protection membership number is 2358.
What is ATOL protection?
When a customer has ATOL protection, it means that there will be financial security and that if the company, or one of the travel suppliers, has a problem then customers won't lose the money paid for package holidays, and are not stranded in a foreign country.
ABTA:
The Travel Association – ensures our practices are amongst the best in the business ensuring that the top travel agents' customers get the most from their travel. This travel agent is an member of ABTA with membership number V2043.
Your holiday is all about leaving your problems behind, relaxing, taking it slow. That's why this travel agent never lets anything come between you and a brilliant holiday.
Payment Methods:
How do you deposit or pay for your package holidays with Virgin Holidays?
Credit or debit card, one card or two cards paying with this top travel agent is easy. Whether you're simply paying your deposit, paying in instalments, or paying outright, you can now split the cost across multiple cards. The travel company accept all major credit and debit cards and will not charge you fees. Visa, MasterCard, Maestro, or American Express all is accepted.
Online booking is Secure – You are safe, your security and confidentiality are the highest priority, so the agent encrypts your details as they are being sent back and forth across the Internet with SSL (Secure Socket Layer), an industry-leading security protocol. If you want more information, please read through the travel company privacy statement.
PayPal: Fast and secure way to pay for your package holidays, although like any other payments you need to follow the PayPal Terms & Conditions.
My Virgin Holidays App:
The My Virgin Holidays Ad pp is available to download for free from the App Store for any IOS users or you can get it on Google Play for those who use Android. With the app, you can access all your holiday details even when you're offline, view your package holidays itinerary whenever you want and wherever you are, even without a connection.
All your important holiday documents at your fingertips. Checking your dates, times, flights and everything in between on one app.
My Virgin Holidays App main features:
Virgin Holidays Bookings
To add your information simply fill in the Booking Reference number, which was given to you with your Holiday booking confirmation. Also needed are the passengers last name and date of birth to log in the itinerary.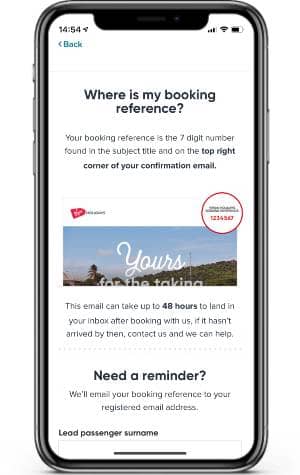 IF you don't know the booking reference number the my holidays app gives you the option to request one by email. Simply by entering the passengers last name, date of birth and date of departures. Within 48 hours you will receive an email from the travel agent with a link that will add the Holiday Details to the app.
Check Flights Numbers and passenger details
All the information needed for your holidays is stored in My Virgin Holidays app in a document form, available to access at any point, and saved on your mobile device. Giving you the ability to check Dates, Times, Flights, and any information in regards to your travels all on the app.
How to Contact this travel agent?
The app My Virgin Holidays contacts Customer Service at your fingertips. You have the choice of how you want to correspond, whether it is via Live Chat or a Phone call to 0330 057 3531 or simply to send an email to customerservice@virginholidays.com
How do other Virgin Holidays reviews compare to Top 10 Travel Agents Reviews?
There are two types of travel reviews that you can come across online – expert reviews and the more traditional customer travel agent reviews.
The expert review will usually provide you with an unbiased evaluation of a UK travel agency and will highlight its pros and cons.
A customer review, however, will offer a more individual view of an OTA website. It will be sharing personal experiences and will most likely focus on a certain feature.